An Event to Attend- The Women's Lifestyle Expo
It's All About You – and only you!
You've paired the perfect skirt with those killer heels; you've answered at least 15 emails; you've texted your best friend about dinner plans, fed and carpooled your kids to school, dropped of your significant other's dry cleaning and avoided spilling a latte on your blouse. You are expertly navigating your way through the traffic, with the radio turned down to a somewhat bearable decibel level so you can steal a moment for yourself. And it's only 09:30am.
Isn't it time to take a break and make time you? Time to find solace and nurture every aspect of the multi-talented diva you have become.
Well, the Women's Lifestyle Expo, which takes place from 18 – 20 April 2014, is the place to be. You'll find it at The Lookout, the V&A Waterfront's hot new outside entertainment/function venue, so you won't have to fight the crowds for parking to get there. And when you do you can enjoy a rich array of anti-ageing, pampering treatments and other spoils – all under one roof.
Overlooking Table Bay and in walking distance of the V&A Waterfront, this is a not-to-be-missed luxury lifestyle event where every aspect of the super mom, career girl, domestic goddess, and fashionista in you can be validated and celebrated.
So put on those stowed away heels, and join the girls for a glass of bubbly and oysters. Or have that long-awaited catch-up over an express manicure. Experience the thrill of indulging in the latest beauty products, must-have fashion items and just about everything in between.
There'll also be a  host of leading experts presenting of the latest beauty and anti-aging techniques. For once, it'll be all about you and only you – so come along and celebrate your inner goddess.
There'll be over 100 curated exhibitors showcasing the latest products and services in fashion, beauty, wellness and business.
The Women's Lifestyle Expo takes place from the 18th – 20th April at the V&A Waterfront Lookout. 
A must attend event Fashionistas.SEE YOU THERE!
MAGNUS CARLSEN AND LILY COLE FOR G-STAR RAW SPRING/SUMMER 2014
A "sneak peak" of the talent for the Spring/Summer 2014 G-Star RAW campaign
Magnus Carlsen first caused a stir when he featured in the Autumn/Winter 2010 campaign for G-Star and heads will turn again when Carlsen fronts the S/S 2014 campaign partnered with Lily Cole, best illustrating the brand's innovation.
Famous for his uncompromising and strong style of play at the age of 13, Carlsen is currently the world's top ranking chess player. Comparable to Carlsen, Cole began a career in fashion at the age of 16 on the cover of British Vogue. While studying art history, she has since starred in various films, launched a successful 'giving initiative' and campaigned for environmental sustainability.
Key style in the campaign is the Type C pant. The Type C is the latest and most unrestrained cut in the G-Star RAW 3D denim line. The Type C for both men and women is constructed with an extremely tapered fit and elongated rear pockets. Since releasing the world's first 3D denim in 1996, G-Star has continuously reinvented denim construction. As with the G-Star Elwood, Arc and A-Crotch, the Type C is a product of both extensive development and the G-Star belief of unlimited possibilities.
G-Star RAW. Just the Product.
Some Fashion Inspiration-
ADIDAS BY STELLA MCCARTNEY SPRING/SUMMER 2014 COLLECTION
THE NEW ADIDAS BY STELLA MCCARTNEY SPRING/SUMMER 2014 COLLECTION
Futuristic prints, retro stripes and distinctive brights set SS14 alight
Adidas South Africa , launched the adidas by Stella McCartney Spring/Summer 14 collection with an eclectic array of colours, attracting the wearer out into the open air with its fusion of vivid brights, retro lines and bold prints. The new collection was presented in a visually exhilarating, highly anticipated local launch at The One & Only Cape Town,19 February 2014  . Focused on sleek feminine structures and innovative texture combinations, the collection unites aesthetically compelling, standout style and supreme functional performance.
'This season I was really inspired by urban landscapes, and the colour tones and dimensions of a skyline. There is a play on contrasts: the Run range is graphic, while the Studio range has a hint of retro cool. I'm also really proud to offer a collection that incorporates sustainable elements wherever possible: this season not only do we use organic cotton, recycled yarn and the dry dye technology, but we also have made a real effort to reduce on surplus waste.' says Stella McCartney.
Apparel
Futuristic designs meet colour blocking in this season's expressive London Run range. Dynamic contrasts occur as strong geometric shapes in fierce shades are tempered by feminine silhouettes; summery daisy prints and transparent paneling are amplified by bold colour accents and unexpected cut outs. Eye-catching new combinations of Performance Tanks and Tights in striking two-tones are offset by Shorts in all-over Indigo. Performance Gilets, Jackets and Hoodies in a captivating palette of White and mid-range Blue. Techfit pieces benefiting from compression fabrics and applied PU bands in specific areas ensure cool functionality and wear ability even during the most physically demanding workouts.
The Yoga range features a series of simple, relaxed looks with a focus on active wear providing ultimate maneuverability and comfort. Reminiscent of Tokyo's springtime cherry blossom, Loose-fit Organic Sweatshirts and Tees in Fresh Aqua and White sit alongside Organic Knit Shorts, allowing the body unrestricted natural movement and flexibility.
Offering a unique fusion of technical superiority and style for the true performance-focused tennis player, this season's innovative adidas by Stella McCartney barricade range will be worn by ambassador Caroline Wozniacki at the Australian and French Open. Showcasing cutting-edge athletic design and standout aesthetic, the range comprises of a dress based on an energizing palette of yellow, white, emerald and mint accentuated by bold, all-over leopard print and retro stripes in tangerine.
Footwear and Accessories
The season's collection is supported by high performance footwear and utility accessories; each styled to reflect the adidas by Stella McCartney aesthetic while providing specific performance benefits.  Iconic Studio Gym Bags in perforated taffeta and glossy fabrications meet Ready to Dance Bags in light, summery tones to complete the look.
Urban-inspired accessories with retro detailing complete the SS14 offering, with understated back packs. Multiple pockets and tag zips ensure easy storage of possessions on the go.
The adidas by Stella McCartney Spring/Summer 14 collection will be available, from February 2014 onwards at Waterfront, Gateway and Sandton adidas Concept Stores.
For more information please visit the adidas News Stream, adidas.co.za/adidas_by_stella_mccartneyor @adidasZA on Twitter and Instagram to get social. Unlockthe adidas vault to find out more about the brand's heritage.
PHARRELL WILLIAMS CURATES COLLABORATION BETWEEN BIONIC YARN AND
G-STAR TURNING OCEAN PLASTIC INTO DENIM
New York Fashion Week, February 8th - Pharrell Williams, Creative Director of Bionic Yarn, announces RAW for the Oceans, a long-term collaboration between denim brand G-Star RAW and Bionic Yarn, at the American Museum of Natural History.
The collaboration is a creative exploration, where Bionic Yarn and G-Star joined forces to innovate denim. Together they will create a collection made with recycled materials from the oceans in stores from August 2014. In addition to the joined seasonal collections, G-Star will integrate Bionic Yarn material into existing product lines.
Speaking on the collaboration Pharrell Williams comments: "Working with G-Star was an obvious choice, because they have a legacy of pushing the boundaries of fashion and denim forward. Bionic Yarn is a company built around performance, and denim is the perfect category to show the world what Bionic Yarn can do. Everyone has jeans in their closet."
Driven by its design philosophy 'Just the Product', G-Star focuses on the continued reinvention of modern craftsmanship, 3D denim innovation and new materials. G-Star CMO, Thecla Schaeffer says: "G-Star has always been driven by innovation, and by integrating Bionic Yarn into our collection we're taking the next step in creating denim for the future. We're very excited about the long-term goals of this collaboration and to have Bionic as our business partner.
The RAW for the Oceans collection will be available at selected G-Star RAW stores, and online from August 15th. For further information, please visit gstar.com/rawfortheoceans
For the video that illustrates the RAW for the Oceans collaboration, Click here:
http://www.youtube.com/watch?v=Wm8N78bE8ns&feature=youtu.be
http://www.youtube.com/watch?v=VgMWHT7Xm4U&feature=youtu.be
#GStarRAW #Bionic #rawfortheoceans
G-Star RAW. Just the Product.
CHANEL BETTISON - Beauty Concept Store
CHANEL BETTISON is a first-of-its-kind Beauty Concept Store in Cape Town, which has just opened its doors in Shortmarket Street, off vibrant Bree Street. The concept of this innovative new beauty space is to offer all the essential beauty needs of today's modern woman under one roof. Perfect for the urban woman on the move, CHANEL BETTISON specialises in pre-party and event preparation, amongst other things.
If you're heading to a party or launch, you can conveniently pop into their modern, gallery-like salon, where they will prep your skin, do your make-up, style your hair, and get your nails in tip top shape and ready to impress. To top it all, they have a facility where you can get dressed into your party gear and they'll even get you in the mood with a glass of bubbly while they do the finishing touches, conveniently staying open till 7pm on certain evenings so you can go straight to your event from there.
Owner and founder, Chanel Bettison, was inspired by her travels around the globe, and trends that she saw first-hand surfacing in metropolitan cities like London, Paris and New York. Interestingly, she strives to combine the peace and serenity of places like Bali and some of the more exotic Asian islands she visited into her salon, to offer the perfect balance between yin and yang - vibrant city living vs. the relaxation and peacefulness of a spa sanctuary.
But don't be mistaken that just because CHANEL BETTISON offers all these services under one roof, that they don't specialise in each. Owner Chanel has looked long
and hard for a team that could fullfil her own high standards in each of the different areas of specialization. The frustration of often not being satisfied with the level of service and quality of treatments she encountered in Cape Town, ultimately inspired her to open up her own salon.
Chanel is no newcomer to the beauty industry. Having honed her skills as a professional make-up artist and hair stylist over the last 4 years, Chanel knows what it takes to run a professional salon such as the CHANEL BETTISON Beauty Concept Store, and that, combined with her perfectionist and passionate nature, has resulted in a salon that is not only refreshingly different, but also of the highest quality.
CHANEL BETTISON offers a 360-degree beauty experience, which includes all the modern woman's needs around hair, make-up, nails, massage, facial treatments, chemical peels, waxing, brow shaping, eyelash extensions, teeth whitening and even botox. Although the salon is designed around the urban woman, they equally cater, for men, children, and have even designed bonding pampering packages for mothers and daughters or brides and bridesmaids.
CHANEL BETTISON has set out to only focus on using the best products, which includes renowned brands such as the award-winning Optiphi for skin, Joico for hair, and ESSIE and Gelish for nails. Optiphi, which is fairly new to the South African market, is a scientifically based anti-aging skin care range aimed to address the mechanisms of gerontology (cellular aging); it treats all seven signs of aging namely: dehydration, impaired skin barrier function, pigmentation, loss of elasticity, fine lines, enlarged pores and redness. This advanced range of skincare won a coveted Marie Claire Prix D'Exellence De La Beauté award in both 2011 and 2013, and is sure to make a difference in how Capetonian women view their skincare regime.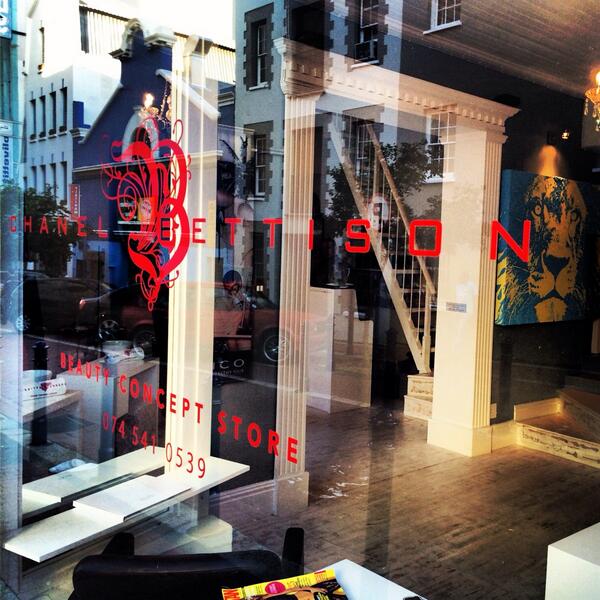 Dedicated to consistently providing the highest customer service CHANEL BETTISON is a salon that ultimately projects the positive energy and inner balance of its founder, and when you walk into the modern gallery like space with its avant garde art inclosed in its historic Victorian architecture, you know you've encountered something special.
The CHANEL BETTISON Beauty Concept Store is located at 71 Shortmarket Street, Cape Town. For more information go to www.chanelbettison.com or call 074 541 0539.
VEUVE CLICQUOT MASTERS POLO CAPE TOWN 2014
Synonymous with flutes of champagne and exquisite couture fashion, guests of the fourth annual Veuve Clicquot Masters Polo 2014 are set to attend what has now become South Africa's most exclusive and luxury polo event on the Western Cape's social calendar on Saturday, 01 March 2014.
Drawing inspiration from polo's global presence, with its rich cultural heritage, the prestigious Champagne House sponsors some of the world's leading polo events such as the Manhattan Classic in New York City, the LA Polo Classic, the UK's Gold Cup and the Veuve Clicquot Masters Cape Town, the only event of its kind on the African continent.
VIP guests of Veuve Clicquot Masters Polo 2014 tournament can look forward to an afternoon of stylish décor opulence, perfectly chilled Veuve Clicquot Yellow Label champagne, gourmet canapés, lavish couture fashion and a highly anticipated action packed finale of polo.
More than any other sport, polo is best savoured live – a theme steeped in tradition and perpetuated by Veuve Clicquot.
SAVE THE DATE DIARY DETAILS:
Event: Veuve Clicquot Masters Polo Cape Town 2014
Date: Saturday, 1 March 2014
Venue: Val de Vie Estate, Jan van Riebeeck Road, Paarl 7646
Tickets are available at Computicket - http://online.computicket.com/web/event/veuve_clicquot_masters_polo/797457103/0/58682090
Rihanna
Rihanna's third vogue cover-
#VogueInstaFashion , Kendall Jenner for VOGUE
Kendall Jenner Models the Best Looks of New York Fashion Week (Vogue)
Marc Jacobs
Photographed by Jeff Henrikson | Fashion Editor: Jorden Bickham
Carolina Herrera
Photographed by Jeff Henrikson | Fashion Editor: Jorden Bickham 
Oscar de la Renta
Photographed by Jeff Henrikson | Fashion Editor: Jorden Bickham 
Tommy Hilfiger
Photographed by Jeff Henrikson | Fashion Editor: Jorden Bickham
 Tory Burch
Photographed by Jeff Henrikson | Fashion Editor: Jorden Bickham 
Vera Wang 
Photographed by Jeff Henrikson | Fashion Editor: Jorden Bickham
Michael Kors
Photographed by Jeff Henrikson | Fashion Editor: Jorden Bickham 
For more-Source:http://www.vogue.com/vogue-daily/article/vogueinstafashion-kendall-jenner-models-new-york-fashion-week-fall-2014-looks/#1
TOPSHOP UNIQUE AUTUMN WINTER 2014 SHOW
TOPSHOP UNIQUE AUTUMN WINTER 2014 SHOW
WHERE: TOPSHOP SHOW SPACE, TURBINE HALL AT THE TATE MODERN, LONDON SE1 9TG
WHEN: SUNDAY 16TH FEBRUARY 2014, 3PM
 SHOW NOTES:
The English Heritage and its rebellious streak, this season is all about the girl… Her attitude, her individuality… The soft girl wanting to be tough, the tomboy wanting to be pretty…
Silhouette
Gymslips and sports kits are in the mix with soft sexy dresses & blouses.
Protective hoods, warm padding, puffa's and trenches are oversized and feather light over slips and sheer bodices embroidered with bespoke tattoo motifs and delicate flowers.
Fabrics
Clean modern wool mix tailoring fabrics, light and enveloping mohair and tonal shearling is met with traditional weather-proofed outerwear.
Snake effects, embellishment, embroidery and shiny tech fabrics bring a contrast to delicate tulle, organza and collapsed chiffons…
Palette
Buttermilk, ginger, chestnut & champagne tones soften uniform greys… Forest greens remind us of the great British outdoors & flashes of royal blue and scarlet red add an unexpected clash and contrast… Prints created by the in-house design team feature tangled plats and delicate frost bitten flowers.
Hair: Anthony Turner using L'Oreal Professionnel
Make-up: Hannah Murray at Art + Commerce using Topshop Beauty
Nails: Anatole Rainey at Premiere Hair & Make-up using Topshop Beauty
Styling: Beth Fenton at Tim Howard Management
Casting: Rosie Vogel at CLM
Music: Jonjo Jury
Production: Family
CELEBRITIES ATTENDED
Kate Moss, Lottie Moss, Kendall Jenner, Ashley Madekwe, MIA, Daisy Lowe, Poppy Delevingne, FOXES, Leigh Lezark, Sophie McShera, Maisie Williams, Harley Viera-Newton, Chelsea Leyland, Jessica Gomes, Atlanta de Cadenet, Sibel Kekilli, MØ, Tallulah Harlech, Tao Okomoto, Chloe Norgaard, Portia Freeman and Mary Charteris
KATE MOSS WEARS TOPSHOP FLORAL PRINT BOILER SUIT
KENDALL JENNER WEARS TOPSHOP DOUBLE BREASTED BOUTIQUE BLOUSE AND TOPSHOP LEATHER TROUSERS 
 LOTTIE MOSS WEARS TOPSHOP SKORT, TOPSHOP JUMPER, TOPSHOP LEATHER JACKET AND TOPSHOP SHOES 
 ASHLEY MADEKWE WEARS TOPSHOP BLACK FLUFFY JUMPER AND TOPSHOP GREEN SEQUIN SKIRT
 POPPY DELEVINGNE WEARS TOPSHOP SILVER JAQUARD CROP TOP AND TOPSHOP SILVER JAQUARD SKORT
Some pictures of collection and Backstage-
Anonymous asked: your tumblr is so FABULOUS! Really enjoy it!!! love Fashionista Aneeqah
Thanks love! im glad you enjoy it, stay Fabulous
Madison Black Sasha Winner- SAM GQOMO
Congratulations Sam Gqomo hope you enjoy your pair of Sashas,you now own one of only 100 pairs!,Can wait to see how you will style them.Enjoy them!
Thank you to all the Fashionistas that entered.I have read all of your emails,tweets and responses to my post. What amazing Personalities,just love that i got to know some of your personalities.
There will be another competition to win a pair of heels soon so keep a look out!
Stay Fabulous!!!
HAPPY VALENTINES DAY FASHIONISTAS! HOPE YOU HAVE AN AMAZING DAY AND GET SPOILT ROTTEN <3